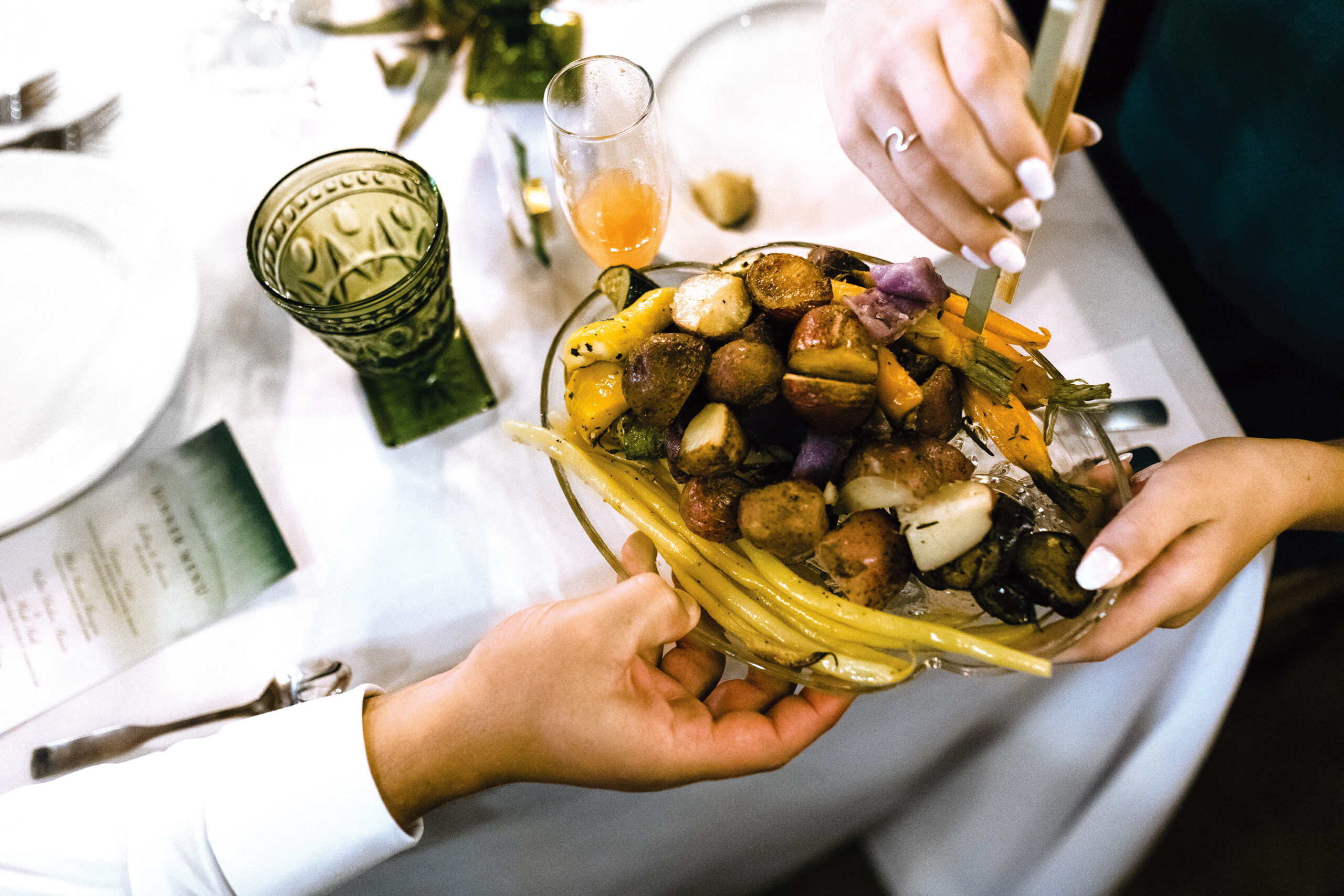 We can cater for any type of event! We have done small parties but also graduations and weddings with 400 people. We also do custom orders for pick up if you just need us to cook for you. We love the challenge of catering, and our staff will prepare anything, but our favorite is farm to table. We love it when we're doing weddings and we get to walk around the farmer's market Thursday and buy all the produce that we're going to be serving you. It's picked on Wednesday by the vendors and we're serving it to you on Saturday. Whatever is fresh or in season is what we prefer to prepare for your group. We like to work our menus based on what is available.
Some of the specialties include Minnesota-raised chicken, pork and fresh fish. The side dishes can include a farmer's market salad that has radishes and asparagus in the spring, cucumber with dill salads in the early summer, and salads with tomatoes or any other type of vegetables that are in season later in the summer. We'll even cook a whole hog on a spit. We'll do it all. We love all food and love to be challenged in every area of the kitchen.
To get started, fill out our Catering Questionnaire so we can get an idea of what your event is going to be like. You may also read other client testimonials and visit our food gallery to get ideas. We also offer custom menu boards as an add-on.

"If you could give a caterer six stars I would give Green Scene six stars. Erin was so very nice to work with from the very start. They catered an outdoor wedding for me and my now husband at Sah-Kah-Tey Beach Resort in Cass Lake. Our guests said over and over how good the food was. The food was top notch. It was far above the usual catered food. Most of the guests were from much larger cities and they commented that the food was as great as any fine restaurant. The staff, service, presentation were all so very nice as well. Thank you Green Scene for making our wedding so enjoyable." B&B, Stillwater, MN
"I've used the services of the Green Scene for my retreats while I'm in the Akeley area The quality, consistency and price point makes it easy for me to choose them when I need to source food for a group of people on retreat. They provide healthy, tasty, options for those with food restrictions and allergies as well as those that have no restrictions. We definitely didn't worry about starving! Erin is amazing to work with on meal planning, delivery or pickup schedules, allowing me to focus on the content of the retreat and the experiences people were having vs. cooking or stressing over food." Laurie Wondra, YourLifeCORE, LLC
"The Tour of Minnesota, a week-long bicycle camping trip, hired the Green Scene to cater many meals for our trip. Bicyclists on our tour ride between 50-85 miles per day, often consuming upwards of 6000 calories. Erin and her friendly team, met our every culinary need. We had an assortment fresh, organic and locally grown food, with fantastic main dishes, salads, side dishes that met our special dietary as well as the main bunch. The food was top notch. I give the Green Scene Catering my highest rating: 5 stars! Bob Lincoln, Tour of Minnesota Ride Director, LCI
"We have used Green Scene to prepare 4-5 dinner meals for our family reunions (25-40 people) for the past 6 years. The fare is outstanding and Erin and her team at Green Scene are incredibly easy to work with and very flexible in helping us select menus that accommodate the different tastes and diet restrictions in a large group. There is no way we would go back to alternative catering services or to preparing the meals ourselves." Eric and Mimi Carlson, Ten Mile Lake
"Green Scene has been an absolute pleasure to work with for our catering needs. From the first communication of what we will need to the assistance with set up, serving and clean up has been wonderful. We love the menu options and have a hard time making a decision of which sides to go with as they have always been excellent. Thank you for your past help and we look forward to working with you again in the future." Kay Lego, VP Operations Service Manager, Bank Forward
"I just wanted to send you a quick note about what a great job you did for us at our wedding! We loved how willing you were to work with us on the menu based on our budget and preferences. On our wedding day, you and your team were so professional and your attention to detail and willingness to go the extra mile was much appreciated. The food was fresh, vibrant, and delicious; it was memorable for our guests and a lot of them made a point to comment about how much they loved it. Thank you again for the wonderful job you did!" Tara Steinkraus
"We got so many compliments about the food at our wedding thanks to Erin and the crew at Green Scene. I have dietary issues and she was able to work around them no problem. We loved the organic, local options which is important to us. Everything was seamless the day of the wedding, we never had to worry about anything! I would highly recommend Green Scene." Melissa Dietrich, Bride
"We were so excited that we were able to work with Erin at the Green Scene when we started planning our wedding at our lake place in Walker.  With Erin's assistance, we were able to choose some inventive, delicious appetizers, and were even able to have her provide us servers (she was one of them!).  They came into our home and used our kitchen/bar – and CLEANED UP impeccably!  We stop every chance we get for fresh high quality food options in Walker, their food/service/hospitality is top notch." Lucia and John
" Erin and her staff at Walker Green Scene, along with the Piggy BBQ, handled everything perfectly for our wedding day. I met with Erin just a couple times prior to the wedding and I felt like she really had everything under control. She took care of every last detail for me and things I would not have even thought about. I didn't have a single concern as the big day approached. On the day of the wedding, Erin and her staff delivered all of the food to the venue, set up the buffet tables, garbage cans, and a menu board for the guests. Dinner ran very smoothly and the guests had nothing but WONDERFUL things to say about the food and service. As guests were finishing up with their dinner Erin's staff took care of clearing tables. I was beyond pleased with the service I received from Walker Green Scene and I would highly recommend their services! Thank you Erin & the entire Walker Green Scene staff!" Heather Forseman, Bride
"Over the past three years we have taken a group of customers to Northern Minnesota for fishing, golf and lake fun. Generally we have around 30 people attend the trip. The only way that we are able to make this happen has been with the great help from Green Scene Catering. All team members at Green Scene has been awesome to work with each year. The food is terrific and the team goes beyond our expectations helping with cleaning and putting everything in the kitchen back together. In addition to the great food and service is a group of people that are always friendly and very easy to work with each year. We look forward to our trip each year because we know that the team at Green Scene will be there to take good care of all of us." Jay W Rohe | Vice President – US Commercial Sales Milestone AV Technologies
"We were very happy with the food for our catered for our bike picnic for 50. The three salads we chose were exceptional. Everyone said they were so delicious and upscale from other deli salads." Kathleen Curtis
"We used Erin Haefele, owner of the Green Scene in Walker, to cater our son's wedding. We absolutely could not have selected a better caterer. Erin made the process stress free and easy for us. The food was creative and AMAZINGLY DELICIOUS. I would definitely recommend Erin and the Green Scene for your catering needs." Linnea Dietrich
"Everything was just perfect! Food was delicious, set up was beautiful and staff was courteous, friendly and professional. Everyone was impressed! Thank you for helping to make my niece's shower extra special. She was so happy!!" Jody S.