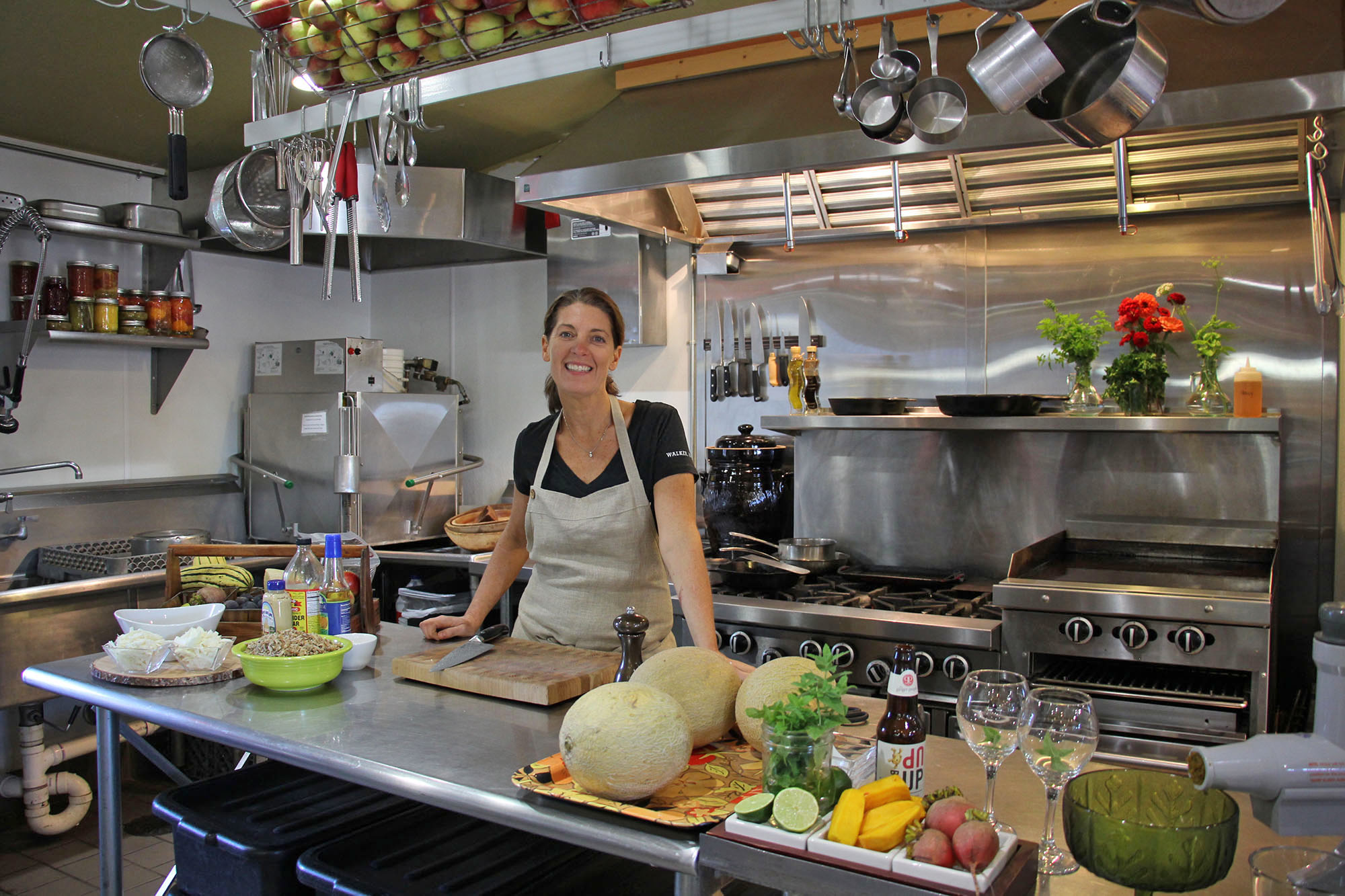 Owner, Erin Haefele in her catering kitchen at the Green Scene
Erin Haefele, owner of Green Scene, lives in Walker with her husband Ryan – together they are constantly dreaming up fun and adventurous things for the Green Scene spaces. They have two children, Franny & Veritas and two eternally happy dogs, Al & Wes.
Below is an article that appears in the 2019 Issue of Girlfriends Magazine, written by Dean Morrill, Editor of The Pilot Independent Newspaper in Walker, MN.
Erin Haefele's love of cooking and vegetables is literally rooted in her youth when she spent countless hours toiling in her grandpa's garden and hanging out with him in the kitchen.
The Minnetonka High School graduate got her passion for cooking and working with vegetables and fruits in the kitchen at her grandfather Colbert Andrus' Walker home. This is where Erin learned how to pick peppers, shuck peas and grow beets, and then how to prepare them."I fell in love with it from an early age," Erin recalls from her summers in Walker.
Erin, who attended Walker-Hackensack-Akeley School through second-grade, grew up in a family where food was the center of everything they did. Dinner was always at a table with a home-cooked meal.
Mary Andrus, Erin's mother, is an accomplished cook, and it was her side of the family that had a passion for cooking. "Every party was about the food," Erin remembers.
Fast forward several years, and the former University of Minnesota physical therapist student is an accomplished chef, caterer and business owner of The Green Scene in Walker who still has that same passion for fresh vegetables."My cooking has always been veggie-centric. I've always been drawn to the seasonal cooking because of gardening," Erin said.
After graduating from culinary school in Wisconsin, Erin began working with a couple of accomplished chefs. A few years later her career took a turn as she went from the kitchen to sales, selling restaurant equipment and supplies while continuing to cater on the side."I did a lot of small dinner parties at people's homes — whatever I could do to stay cooking, because when you love to cook you have to have a place to put all this food," she explained
A move to the Campbell Soup Co. was followed by a promotion and transfer from Milwaukee back to St. Paul.
During her time in the Twin Cities Erin decided to move to organic foods. Preparing for a dinner party, she realized how the flavor was disappearing from vegetables bought in stores. She needed to buy some fresh vegetables, and a friend told her to try the produce at a nearby coop. Tasting an organic apple compared to a non-organic one instantly improved her cooking without doing anything special. "It was amazing!" she said. "Back when I was kid, everything in the garden was organic, it just wasn't called organic."After being in sales for six year, Erin literally woke up one morning and said to herself, "This is ridiculous. I'm selling a product that doesn't mean anything to me."
In 2003 she moved back up north to be near her mother and went to work for John Johnson in the kitchen at Tianna Country Club, Walker. Her first assignment was preparing food for the bridge ladies. Johnson gave her a budget and Erin tried out all her specialties.After about three years and a brief stint in real estate, she joined forces with Theresa Bilben, owner of Village Square restaurant, to start The Green Scene.
In 2009 Erin and Theresa began shopping for produce for a few friends at farmers' markets in Hackensack and Bemidji."It was just for fun; it was for our friends. We'd put the eight to 10 items in boxes with recipes," she recalled.Then one day Erin came home and there were 25 coolers outside the garage!" We didn't know what we were going to do, so we started a business."
Erin and Theresa began selling organic produce out of a garage one day a week for three hours, as per the city's conditional use permit for their business, appropriately named The Green Scene."It was pushing people out of their comfort zone, and we provided the recipes. I didn't realize people had never cooked kale. They didn't even know what to do with it. So part of our mission was to introduce people to new and different produce, and to expand their cooking repertoire." Before long Erin and Theresa were filling nearly 100 boxes a week, delivering to Brainerd, Nevis, Nisswa, Pequot Lakes and other locations. It was so overwhelming that a year later, Erin decided she could no longer work out of a garage and needed to have her own building with a commercial kitchen. So in 2011 she bought a building that once housed a Chinese restaurant. After remodeling, the new business opened later that year.
Erin describes The Green Scene as a "specialty food store, eatery, catering house and groceries focusing on fresh and local ingredients." The fresh organic market features natural, local produce and groceries, grass-fed beef, hormone-free chicken, gluten-free bread, and more. It also features daily soup, salad and sandwich specials.She also doesn't sellout-of-season produce because she believes that if it's not from the farm to the table, it's not worth it.
The Green Scene has evolved considerably since it first opened. It's not really a grocery store, nor a deli, not just a caterer or farmer's market, but a food hub. "It all centers around preparing good healthy food," Erin said. "It's about teaching people the basics."The kitchen was intended to prepare items that were soon to expire, and to sell them. "We've seen that part of the business grow over the years and we now do more prepared foods."
Over the summer months Erin and her staff have catered as many as three events in a weekend. They have done small parties but also graduations and weddings with 400 people. They also do custom orders for people who call in for something to-go."I'd rather cook for 100 people. I just love the challenge of catering," she noted.Erin and her staff will prepare anything, but her favorite is farm to table. "I love it when we're doing weddings and I get to walk around the farmer's market Thursday and buy all the produce that we're going to be serving them. It's picked on Wednesday by the vendors and we're serving it on Saturday."Whatever is fresh or in season is what Erin decides to prepare for that group. "We work our menus based on what is available."
Some of the specialties include Minnesota-raised chicken, pork and fresh fish. The side dishes can include a farmer's market salad that has radishes and asparagus in the spring, cucumber with dill salads in the early summer, and salads with tomatoes or any other type of vegetables that are in season later in the summer."We'll cook a whole hog on a spit. We'll do it all. I love all food. I love to be challenged in every area of the kitchen," Erin said.
Learning new tricks of the trade is never-ending for chefs like Erin. She reads a lot of cookbooks and also has a circle of friends who are accomplished cooks who spend time with each other sharing each other's secrets."I'm constantly challenging myself to try new recipes, because I really enjoy cooking every day," she stated.
Erin's staff consists of mostly teenagers and a couple of adults. She is doing for them what her grandfather did for her back before she even became a teenager."My goal is for them to leave here and be able to cook for their family and friends, and throw the best dinner party of any of their friends."She also encourages her staff to play in the kitchen and come up with a new recipe for something.
She lauded Elise Rice's salted caramel brownies, a recipe the WHA student created that has been a huge hit with patrons and others."When [our teenage staff] leave here and go to college, I know we've elevated their palate," Erin believes. "Cooking is a dying art in a lot of ways, and I'm hoping they will keep it alive on some level. Nothing makes me more excited than when they go off to college and they are cooking on their own."
Erin says the support of her mother Mary, husband Ryan, who will head up the remodel project, and daughters Franny, 16, and Veritas, 14, has led her to where she is today — an accomplished chef, caterer and business owner. "I couldn't do this without them."
After Erin opened The Green Scene, she knew she had to do something else to get organic produce out to people in the community, which led her to start the Walker's Farmer's Market in the summer of 2012.She began with only three vendors, who to this day are still with her. It was a struggle the first few years, but she stuck with it because she wanted it to work. Then Erin brought in live music, and more vendors followed."
Our community needed a farmer's market. It was difficult at first, but I was desperate," she remembered.Over the last few years the market has grown substantially. During the 2019 season the number of vendors grew to 40, which is right where Erin wants it."We make sure we don't duplicate too many products. The vendors are in business too, so we make sure it's worth their while to be here. We've got a great mix of products so there's something for everyone when they come," Erin said.
The vendors tell Erin the Walker community has the most excited and friendly customers of all the markets they go to. "The vendors love coming to Walker."The Walker Farmer's Market isn't just simply fruits and vegetables. Vendors sell baked goods, crafts, honeys and jams, jewelry, pottery, and meats and chicken."There's a ton of talented people in the food world, and it shows at the market. We have a guy who makes cutting boards," Erin said. "It all ties together, helping to create a beautiful meal."The market promotes and supports education, healthy living, local agriculture, and community interaction all in an upbeat, welcoming atmosphere.
Farmer's Market are held Thursdays June through September from 9 a.m. to 2 p.m. The Green Scene, which provides ample parking, is located across Michigan Avenue from SuperOne Foods and the Sanford Health Clinic.
Erin enjoys giving back to the community, and she has done so by helping the Walker Area Food Shelf raise funds to help feed those in need. The food shelf sometimes has a difficult time finding people who will take a head of cabbage or whole squash, because they don't know how to prepare it, so they bring it to Erin.
Taking surplus squash, knap cabbage, potatoes, corn and dried beans, Erin and her staff turn it into soup, chili or chowder that can be sold at two pop-up sales held in the fall and spring each year to raise funds for the food shelf."I love to cook and I hate to see good produce go to waste," Erin declared. "This is also just another way to help the community."
Every year since the farmer's market opened, one nonprofit gets free space to sell their products. This past summer the Walker Food Shelf had that vendor spot."It's great for raising awareness, because some people don't realize we even have a food shelf," Erin explained. "When it comes to the food shelf, the school — the Green Scene can give back, and it's a great to be involved."For a couple of years Erin introduced students at WHA School to fresh fruit and vegetables through a government-funded program."
It was a blast. We washed and cut-up raw mangos, pomegranates and spinach, and then served it in the classroom. A lot of kids had never tasted a mango or pomegranate," Erin noted. "Children look at vegetables differently when you give it to them in its original form and not in a salad. And a lot of people only grew up with canned vegetables."
In the spring of 2021, the Green Scene expanded into a restaurant and cocktail bar. We offer daily lunch service as well as weekend evening dinner service. Our creative cocktail and dinner menus change seasonally!
You can also host your private event right at the Green Scene! We have packages designed for any type of event from a small group to a large wedding. We feature large garage doors to open up the space, a fire-roasted oven, cocktail bar and seating for 75. And of course will feature all the rustic design touches we expect from Erin & Ryan!
To book an event, visit our website or give us a call at 218-547-2880.