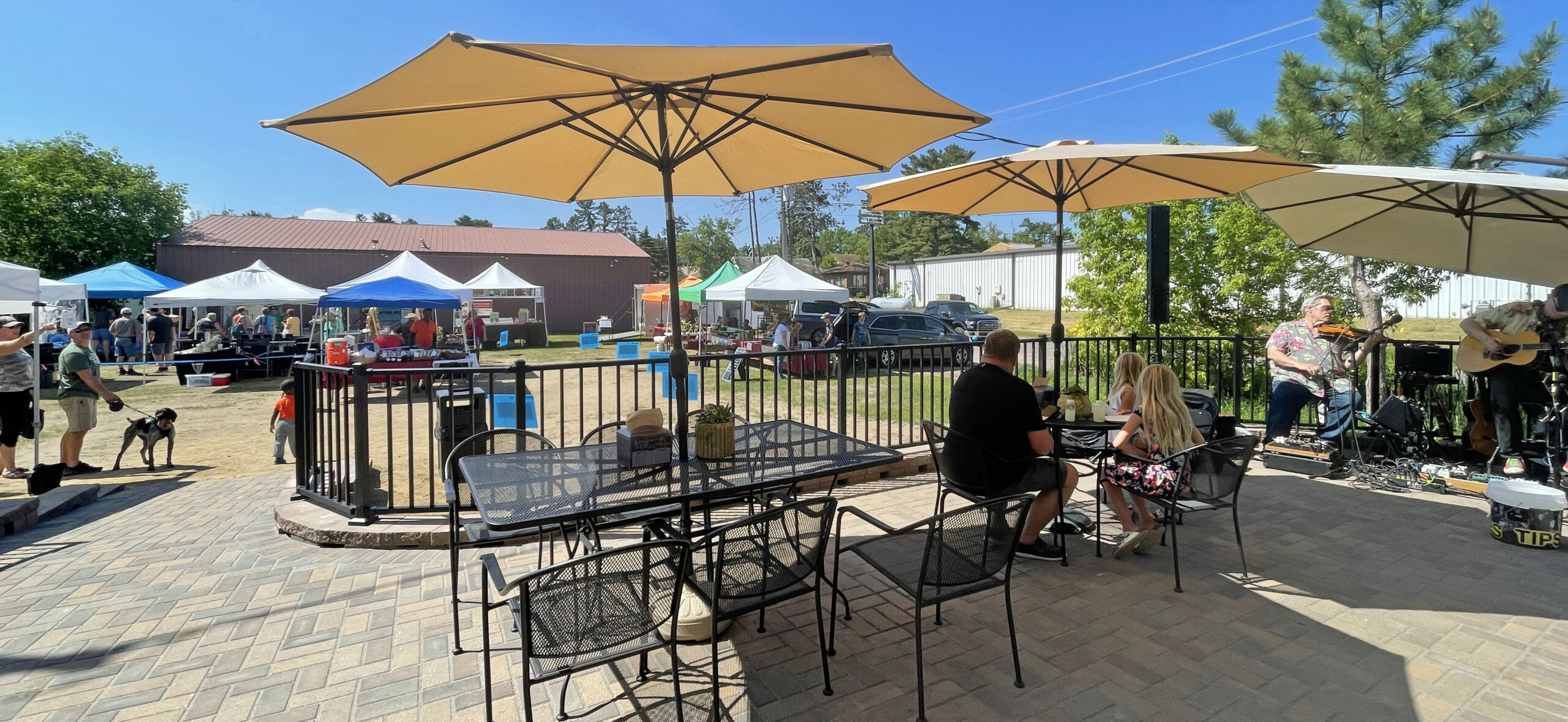 EVERY THURSDAY & SATURDAY JUNE - SEPTEMBER!
Thursdays, June 1, 2023, through September 28, 2023  | Saturdays, June 3, 2023, through September 30, 2023
Located at Green Scene - 617 Michigan Ave W - Walker MN
The Walker Community farmers' and crafters' market serves as a gathering place for community members and visitors. Guests can purchase vendor-grown produce, specialty foods, consumables, crafts, jewelry, and more. The market promotes and supports education, healthy living, local agriculture, and community interaction, all in an upbeat, welcoming atmosphere. Farmers and producers sell their products directly to the public, allowing consumers to interact with the vendor directly. Live music every week with breakfast, lunch and drink specials available in our eatery and handcrafted cocktail bar!
Live Acoustic Entertainment
Fired-Roasted Pizzas
Breakfast and Lunch Specials - Coffee, Quiche, Scones, Sandwiches
Handcrafted Cocktails including our Uffda Market Bloody & Mimosas
A Wide Variety of Locally Grown Produce
Hand-Crafted Baked Bread + Gluten-Free
Fresh Hand-Crafted Fruit Pies, Granola, Cookies and Dessert Bars
Jams, Preserves & Salsa
Local Raw Honey & Maple Syrup
Hand-Harvested Wild Rice
Locally Raised Fresh Chicken, Beef, Lamb & Pork
Garden Berries, Plants & Flowers
Goat Soap, Natural Bath & Body Products, and Other Personal Care Products
Essential Oils
Hand-Crafted Jewelry & Art Works

The Walker Community Farmers and Crafters Market adheres to the following guidelines for the vendor selection process.
We carefully consider the right mix of products to ensure that all vendors can be successful. This mix of vendors ensures shoppers can fill their market baskets with everything from farm-fresh seasonal produce, baked goods, pottery, meats, flowers, jewelry, canned goods, local art, and handcrafted goods. 

Preference for returning vendors.

Preference to produce farmers.

Leave space for new farmers to enter the markets each year.

Provide opportunities for new value-added entrepreneurs to enter the markets.

Limit the number of commercial vendors.

Handmade with traditional methods in mind. 

Unique and of the highest quality.

Proper labeling and packaging.

Vendors are to provide courteous and knowledgeable at-market staff with solid customer service skills and a history of positive interactions with market staff, customers, fellow vendors, and volunteers.

Consistently high product quality: fresh, flavorful, and ripe.

Clean and attractive displays

Booths have the proper signage.

The booth space is clean and tidy.

We are adhering to the highest standards in safe food production and handling. 
MN Department of Revenue ST19 Certificate of Compliance Form:
Vendors selling taxable items are required to provide the following form: https://www.revenue.state.mn.us/sites/default/files/2011-11/st19.pdf 
Please bring a copy to the first market or upload in the online registration form.
Market Bucks/SNAP-EBT:
The Walker Community Farmers Market will be participating in Hunger Solutions Market Bucks Program. Eligible products would include fresh fruits, vegetables, meat, eggs, dairy, honey, maple syrups, jams, jellies, pickles, sauces, baked goods, and seeds or plants that produce food. Green Scene Market will process the EBT card for customers and will provide wooden tokens that are used to buy qualified products are participating booths. Green Scene will reimburse vendors at the end of each market day. For further information: https://www.hungersolutions.org/programs/market-bucks/ 
Cottage Food Law for Bakery and Food Vendors:
Please make sure your Cottage Food Law registration has been completed and current. Here is the link for further information: https://www.mda.state.mn.us/food-feed/cottage-food-law-guidance 
Farmers Market Nutrition Program: 
If you grow fresh fruits and vegetables, sell them at farmers' markets, and want to increase sales and reach new customers, read more about becoming an Authorized Vendor for the S/FMNP at the following link.
https://www.mda.state.mn.us/food-feed/information-farmers
Food Labeling: https://www.mda.state.mn.us/food-labeling-requirements
Cottage Food Law: https://www.mda.state.mn.us/food-feed/cottage-food-law-guidance
Seasonal Vendor Registration

Seasonal Vendors for Thursday and/or Saturday use this form. Click the link above to fill out online, then mail your check. (Printable version available upon request.)

Saturday Drop-In Vendor Registration

Drop-In Vendors for Saturday use this form. You will be notified of your acceptance as soon as possible. Do not send payment until you are accepted. (Printable version available upon request.)